History of Adam Clark
Adam spent his first 14 years in a small village on the Hampshire / Berkshire border. In those days there were three large dairy farms, a smaller farm and a special breeds farm. Animals, particularly cows, were a frequent sight and directly across the lane from our house was a yard with a shelter, where cows were often housed. Farm vehicles including tractors trundled past the garden gate everyday. As a little boy Adam would keep vigil at the gate so as not to miss any, shouting the names of the different types as they went by.
The cottage where we lived was, surrounded by both fields and woods, where Adam loved to walk the dogs. He looked forward to the time of year when the corn had to be cut and the soil ploughed. He spent many hours watching the huge combines at work, running alongside the fence as tractors and trailers ferried their cargo from field to the storage barn, often just over the garden fence. A duck pond - once the village water supply - divided our garden from the next door neighbours. They were often to see Adam pop up from behind hedges and rustle the bushes, as he studied the activities of the pond life, involving ducks, frogs, insects and moorhens.
Adam was always busy. He needed little sleep. An intolerance to cane sugar created hyperactivity, but too little food resulted in a dive in energy. His hyperactivity meant that he had boundless energy to expend on his outdoor activities, unfortunately the same energy could wreak havoc in the classroom. However a careful diet and the provision of a banana smoothie at break-time courtesy of the wonderful school cook enabled Adam to get through the day.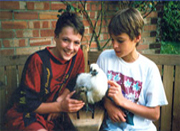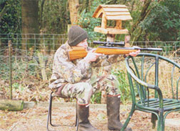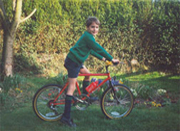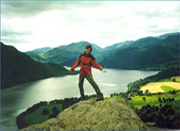 In addition to being hyperactive, Adam was diagnosed with dyslexia, which explained much of his difficulty in class. Coloured lenses in glasses, and additional one to one teaching in maths formed part of the extra help he needed. At the age of 10, because of his huge interest in animals and wildlife, but with the intent of increasing his self- esteem and sense of achievement Adam received a hen ark. The greatest thrill was to choose his own three very first hens from a local farm. From the beginning Adam religiously cared for them, never expecting anyone else to do his work, up early to feed them, cleaning them out and fastening them up at night to keep them safe from the wily fox. As Adam grew so did his collection of hens, some of which he bred himself.
Guns go-carts and bikes were another major part of Adam's life. He decided to advance one day from stabilisers and persisted with a dogged determination, which had become a major characteristic. Despite falling off many times (once straight over the handlebars when he collided with a climbing frame) he mastered the technique the same day and wore a grin from ear to ear for some time.
Although Adam struggled with written work, he showed artistic promise from an early age, and continued to enjoy art, choosing to study it at A level. Nature formed the basis of his artistic subject matter. He also played the drums, an instrument for which he had a natural talent. Adam always enjoyed sport, having enormous stamina which he displayed when he came fourth in the annual "whole school fell" race at John Ruskin school. He was reckless on the football pitch, always giving one hundred percent in every match.
Adam was great company as he had an incredible sense of humour, he was always able to make you laugh even if he had done something naughty and you were trying to be cross with him. He was famous for his huge smile and ability to make every situation exciting. Adams passion for wildlife and the environment drove him on to take geography and biology. He was thrilled to gain a place at Northumbria University to study geography and environmental management. He loved his six weeks there making friends and enjoying the beginning of his course, when his life was tragically cut short by a fatal car crash.